German
|

Print
|

Webcam
|
Data protection
Projects -> Process control system -> Visualization Systems
Visualization Systems
A visualization system presents and processes data, information and results to the operator, which have been gathered from an automation system. This can be realized with a variety of software. We as professional automation partner offer visualization solutions with these systems: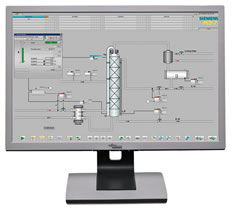 WinCC from Siemens
WinCC flexible from Siemens
Wizcon from Emation
Control Maestro from Emation
We deliver operator devices and visualization software, which make it possible to operate and monitor your machines directly on site. These human machine interfaces are the intelligent answer to complex processes and higher demands in functionality of machines and plants. By using standardized and open interfaces, the devices can be integrated perfectly into your existing automation system.
We are always keen to have a close contact to our customers and like to oblige their wishes.

Following, you will find a small listing of plants we have already realized with our control concept:
Dorfner Mühle
MAN Diesel & Turbo SE
Rodenstock